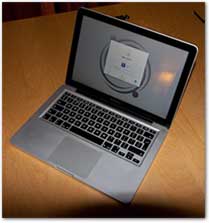 While nothing beats experience, it certainly doesn't hurt to have a decent set of tools to do the job. The main key tools in this case being laptop, sound card and DJ software. So yes – this is going to be one of those what-I-use-and-why posts.So launching straight into it – tool number one – the laptop. I've been a raving Mac fan since university days, courtesy of my final year project. Cut to present day, and we're fervently a Mac household – the FrankenMac that I'm typing this post on nowithstanding. Anyway – meet Slim – my 13″ Macbook Pro. A Pro is probably overkill for a DJ machine, but it does what I need it to, is rock-solid-stable, is not prone to groundloop hum (one of the many strengths of Apple gear), is a lot lighter and more portable than its 15″ and 17″ cousins, and is an allround great little machine. Were I buying a new laptop now, I'd probably go for a Macbook Air, chiefly for the portability. As it is, I hope to be keeping this one for a few years yet.
Second ingredient – the soundcard. First off – why use one? Two easy answers – firstly, it provides one or more extra audio outputs from the laptop, so you can preview tracks mid-set. Secondly, you can get much better sound quality from a good sound card than from the standard laptop headphone socket – and that alone is worth the price of admission. In particular, I've been on a quest for a soundcard that can help soften some of the treble harshness that swing recordings can be prone to, particularly from some of the brass instruments, while bringing out the fine detail in the music.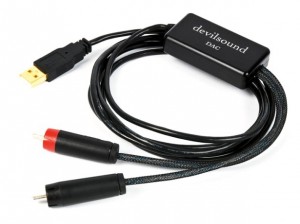 I've been through several soundcards over the last few years, and finally settled on a DevilSound DAC. It's an expensive solution, and probably overkill in that most PA systems that I use don't do it justice but it has two major things going for it – extremely small size (hence great portability), and the sound quality I get is fantastic. So much so that I invariably plug it into my desktop machine at home whenever I want to listen to my collection.
Finally: software. I've had interesting discussions with people who believe all you need is iTunes or an equivalent, but believe me – iTunes is not a good solution for DJing. Lack of previewing aside, many's the occasion when I've heard a DJ accidentally double click on a track and instantly start it playing, interrupting the current track. This has happened to me exactly once, and this inspired me to seek an alternative.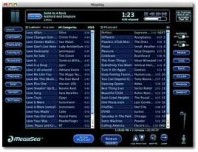 The flipside is that most DJ software these days is geared around mixing and beat-matching, neither of which is even vaguely appropriate for swing DJing. What's needed is really a glorified playlist manager. One which lets you preview, is stable – and by that I mean rock solid, which gives good sorting, categorisation and searching facilities, and which is easy to use. Oh – and which doesn't play a track the instant you double-click on it. Which brings me to Megaseg. Again – it's not cheap, and it comes with a tonne of features that I don't need or use, but it fulfils all the criteria of stability, previewing, interface and sorting/searching (it has a BPM searching facility which alone is worth its weight in gold.) Perhaps even more importantly, it is under constant development – I've reported occasional bugs which have been fixed (sometimes within days), and requested new features which have materialised within a month.
Finally – the last two items which deserve a mention are the headphones – a decent quality pair that can shut out external noise is invaluable. I use Sennheiser HD215s, which are a little bulky, but in other respects are ideal (and are relatively inexpensive). They even have a rotatey-ear cup so I can just use one ear, and feel more like a proper DJ. The finishing touch is a Magic Trackpad – takes up no space at all, and gives a much larger trackpad surface, so two-finger scrolling, and three-finger dragging become much easier. Plus it lets me have the trackpad off to one side of the laptop rather than in front of the keyboard. Call me fussy, but I find it much easier like that.